Sheet metal parts are important components of injection molding machines, not only for their complex structure but also for their beautiful appearance and safety protection.
The main processes are: cutting, shearing, punching, folding, welding, splicing, molding, spraying, etc. It is the last process of injection molding machine assembly. Due to the complicated process, the outsourcing process is prone to quality abnormality, which often causes abnormal quality of sheet metal and cannot be released from the machine normally, and the situation of stopping and reworking and delaying production is especially prominent. The company decided to set up a sheet metal workshop to produce and process its own sheet metal frame to solve the production bottleneck caused by abnormal sheet metal quality.
According to the past quality defects of sheet metal such as wrong processing, bad flatness, bad dimension, bad surface spraying, etc., the quality assurance department organized to analyze the characteristics of the quality abnormalities and formulated a quality control plan for the sheet metal production process to ensure the quality of sheet metal.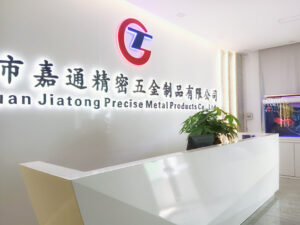 Cutting: The sheet metal workshop adopts CNC laser cutting machine for cutting, and develops the control procedure for the size of the first part according to the characteristics of the equipment, and forms digital and process operation specification, so as to ensure the size of the parts meet the requirements of the drawings.
Prototyping: According to the structure and processing process of sheet metal parts, we formulate the procedures of folding, welding, splicing and forming and carry out the first part prototype, and then confirm the production according to the sample parts to ensure the parts meet the requirements of the drawings so as to reduce any abnormity.
Final inspection: for the semi-finished parts finished by splicing, welding and forming, perform final inspection to ensure that the parts meet the drawing requirements.
Any further questions about sheet metal manufacture, please feel free to contact JIATONG sheet metal supplier  to custom sheet metal enclosures, custom aluminum box, custom sheet metal boxes