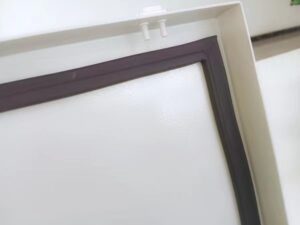 Laser cutting, which originated in the mid-1960s, is a cutting process characterized by the use of an amplified laser as the "tool" and a computer numerical control program to perform the cutting operation. The main lasers used in laser cutting are CO2, neodymium (Nd), yttrium aluminum garnet (Nd: YAG) and fiber optic lasers, all of which have their own advantages and disadvantages, for example, CO2 lasers are ideal for cutting and engraving, Nd lasers are more suitable for cutting applications requiring large amounts of energy, and fiber lasers are replacing other lasers and are becoming more widely used.
Plasma cutting, which originated in the 1950s, is another cutting method that features the use of a plasma torch. The plasma torch produces a plasma heat stream that can melt even the hardest materials. Instead of using fire or flame, plasma cutting uses a conductive ionized gas, also known as plasma. Plasma can reach very high temperatures, such as 20,000 degrees Celsius. Workers who perform plasma cutting must wear appropriate personal protective equipment to prevent getting arcophthalmia, also known as photokeratitis or ultraviolet keratitis, an injury that occurs when a worker's eyes are exposed to high doses of radiation. Because the plasma torch emits radiation, workers must wear goggles.
Laser cutting and plasma cutting both cut metal workpieces; they work in completely different ways. Laser cutting uses an amplified laser, while plasma cutting uses plasma.
Custom Metal Box Manufacturers | Custom Sheet Metal Enclosures | Custom Aluminum Box | Custom Sheet Metal Boxes | Custom Metal Boxes | Sheet Metal Supplier | Steel Box Manufacturers | Sheet Metal Box Manufacturers | Custom Made Metal Boxes | China Sheet Metal Manufacturer | Outdoor Vending Machine Enclosures | Industrial Machine Enclosures | Metal Enclosures for Electronics | EV Charger Outdoor Enclosure | Outdoor EV Charger Enclosure | EV Charger Enclosure | Custom Aluminium Box | Custom Steel Box | Metal Box Supplier | Metal Enclosure Manufacturer | Sheet Metal Enclosure Manufacturers | Metal Enclosure Box Manufacturer | Metal Enclosure Manufacturer | Aluminium Box Manufacturer | Outdoor Equipment Enclosures | Aluminium Box Manufacturers | Equipment Enclosures Metal | Metal Enclosure Box | Metal Enclosure | Enclosure Box Price | Sheet Metal Manufacturers | Sheet Metal Manufacturing companies | Custom Made Aluminium Boxes | Custom Made Metal Box | Aluminum Sheet Metal Fabrication | Aluminium Sheet Metal Fabrication | Auminium Tool Boxes Made to Order | Custom Metal Enclosures | Custom Stainless Steel Box | Custom Made Aluminum Boxes | Metal Box Manufacturers | Custom Steel Enclosures | Custom Stainless Steel Enclosures | Custom Metal Box | Custom Aluminium Box | Sheet Metal Fabrication Supplier | China Sheet Metal Fabrication | Custom Sheet Metal Fabrication | Sheet Metal Fabrication Services | Metal Manufacturing in China