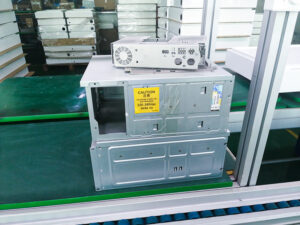 Aluminum boxes can be divided into ordinary boxes and easy-to-open cans, easy-to-open cans used for beer and beverages believe that we are very much in contact with, the amount is also very large, the global annual calculation of more than 10 billion easy-to-open cans.
Aluminum boxes are used as ordinary boxes and are becoming popular in packaging. The process and procedure of making aluminum boxes is almost the same as that of tinned iron boxes. Aluminum boxes can even come into direct contact with liquids, acidic and alkaline items without rusting, something that tin-plated iron does not have. Aluminum cans can also be beautifully printed on the surface, and laser markings and other additional labels can be used to personalize the product even more.
The aluminum plate is soft and often requires a thicker plate for production, and the thickness of the current production of ordinary aluminum boxes needs to be above 0.30mm. One of the major advantages of aluminum boxes is their light weight. The weight of the same volume of aluminum is only about one-third of that of tinned iron, which brings certain convenience to logistics transportation and handling.
Custom Metal Box Manufacturers | Custom Sheet Metal Enclosures | Custom Aluminum Box | Custom Sheet Metal Boxes | Custom Metal Boxes | Sheet Metal Supplier | Steel Box Manufacturers | Sheet Metal Box Manufacturers | Custom Made Metal Boxes | China Sheet Metal Manufacturer | Outdoor Vending Machine Enclosures | Equipment Enclosures | Machinery Enclosures | Machine Enclosure | Machine Enclosures | Industrial Machine Enclosures | Metal Enclosures for Electronics | EV Charger Outdoor Enclosure | Outdoor EV Charger Enclosure | EV Charger Enclosure | Custom Aluminium Box | Custom Steel Box | Metal Box Supplier | Metal Enclosure Manufacturer | Sheet Metal Enclosure Manufacturers | Metal Enclosure Box Manufacturer | Metal Enclosure Manufacturer | Aluminium Box Manufacturer | Outdoor Equipment Enclosures | Enclosure for EV Charger | EV Charging Enclosure | EV Charger Enclosure | Aluminium Box Manufacturers | Equipment Enclosures Metal | Sheet Metal Enclosure | Metal Enclosure Box | Metal Enclosure | Enclosure Box Price | Sheet Metal Manufacturers | Sheet Metal Manufacturing companies | Aluminum Sheet Metal Fabrication