Outdoor EV charger enclosures function similarly to gas pumps in gas stations and can be fixed to the floor or wall, installed in public buildings (public buildings, shopping malls, public parking lots, etc.) and residential community parking lots or charging stations, and can charge various models of EVs depending on their voltage levels.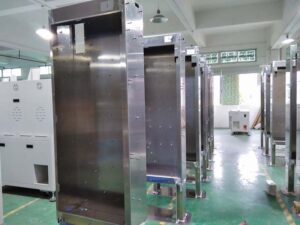 Outdoor EV charger enclosures are typically made of durable materials, such as steel or aluminum, and are designed to meet various safety and regulatory standards, such as UL ratings for electrical enclosures and NEMA ratings for weather resistance. There are six parts of the charger enclosure that can be made of plastic: the charger enclosure, charger plug, charger receptacle, charger gun enclosure, circuit breaker, contactor and power module enclosure. The different parts of the enclosure materials have corresponding material selection requirements to meet both performance requirements and economic and safe material selection.
Overall, the outdoor electric vehicle charger shell provides a safe, weather-resistant shell for electric vehicle charging equipment, helping to ensure safe and reliable charging operations in outdoor environments. If you need a custom outdoor ev charger enclosure, you can choose a reputable and professional sheet metal manufacturer.
Custom Metal Box Manufacturers | Custom Sheet Metal Enclosures | Custom Aluminum Box | Custom Sheet Metal Boxes | Custom Metal Boxes | Sheet Metal Supplier | Steel Box Manufacturers | Sheet Metal Box Manufacturers | Custom Made Metal Boxes | China Sheet Metal Manufacturer | Outdoor Vending Machine Enclosures | Equipment Enclosures | Machinery Enclosures | Machine Enclosure | Machine Enclosures | Industrial Machine Enclosures | Metal Enclosures for Electronics | EV Charger Outdoor Enclosure | Outdoor EV Charger Enclosure | EV Charger Enclosure | Custom Aluminium Box | Custom Steel Box | Metal Box Supplier | Metal Enclosure Manufacturer | Sheet Metal Enclosure Manufacturers | Metal Enclosure Box Manufacturer | Metal Enclosure Manufacturer | Aluminium Box Manufacturer | Outdoor Equipment Enclosures | Enclosure for EV Charger | EV Charging Enclosure | EV Charger Enclosure