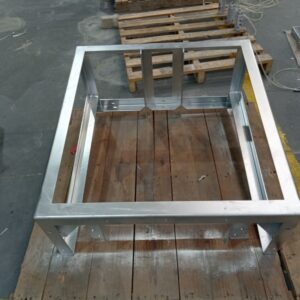 Sheet metal brackets can play the role of supporting various equipment to ensure that the equipment can run stably and avoid malfunction due to shaking; they can fix the equipment in a certain position to avoid accidents caused by displacement when the equipment is running; they can play the role of beautifying the equipment, increasing the beauty of the equipment and improving the overall quality of the equipment.
The following is the manufacturing process of Jiatong sheet metal bracket for you: Jiatong will design the size, shape and structure of the bracket according to the customer's requirements; according to the design drawings, let the purchasing department prepare the sheet metal, steel plates and other materials, and shear the prepared materials according to the requirements of the design drawings with professional sheet metal cutting machines to make the various parts of the bracket; use the punching machine and other equipment to press and shape the various parts of the bracket to The parts are then assembled and welded to form a complete bracket structure; the surface of the bracket is treated, such as spraying anti-rust paint, galvanizing, etc., to enhance its corrosion resistance; finally, professional sheet metal workers will inspect the quality of the manufactured bracket to ensure that it meets the design requirements and customers' needs.
In short, sheet metal brackets are widely used in various fields, with the functions of supporting, fixing, beautifying and protecting, etc. They are necessary accessories for various equipment. Dongguan Jiatong Precision Hardware Products Co., Ltd. is a sheet metal manufacturer with 12 years of sheet metal experience. Most of the employees of this company have more than five years of sheet metal experience, while Jiatong keeps introducing advanced sheet metal equipment, which can ensure the accuracy and quality of the sheet metal products produced and meet the requirements of customers as much as possible. If you need customized sheet metal products, welcome to click the link below to inquire.
Custom Metal Box Manufacturers | Custom Sheet Metal Enclosures | Custom Aluminum Box | Custom Sheet Metal Boxes | Custom Metal Boxes | Sheet Metal Supplier | Steel Box Manufacturers | Sheet Metal Box Manufacturers | Custom Made Metal Boxes | China Sheet Metal Manufacturer | Outdoor Vending Machine Enclosures | Industrial Machine Enclosures | Metal Enclosures for Electronics | EV Charger Outdoor Enclosure | Outdoor EV Charger Enclosure | EV Charger Enclosure | Custom Aluminium Box | Custom Steel Box | Metal Box Supplier | Metal Enclosure Manufacturer | Sheet Metal Enclosure Manufacturers | Metal Enclosure Box Manufacturer | Metal Enclosure Manufacturer | Aluminium Box Manufacturer | Outdoor Equipment Enclosures | Aluminium Box Manufacturers | Equipment Enclosures Metal | Metal Enclosure Box | Metal Enclosure | Enclosure Box Price | Sheet Metal Manufacturers | Sheet Metal Manufacturing companies | Custom Made Aluminium Boxes | Custom Made Metal Box | Aluminum Sheet Metal Fabrication | Aluminium Sheet Metal Fabrication | Auminium Tool Boxes Made to Order | Custom Metal Enclosures | Custom Stainless Steel Box | Custom Made Aluminum Boxes | Metal Box Manufacturers | Custom Steel Enclosures | Custom Stainless Steel Enclosures | Custom Metal Box | Custom Aluminium Box | Sheet Metal Fabrication Supplier | China Sheet Metal Fabrication | Custom Sheet Metal Fabrication | Sheet Metal Fabrication Services | Metal Manufacturing in China | Aluminum Box Fabrication | Sheet Metal Box Fabrication | Sheet Metal China | Precision Sheet Metal Fabrication | Custom Aluminum Box Fabrication | Custom Metal Box Fabrication | Sheet Metal Manufacturing | Metal Manufacturing Company | Metal Bending Services