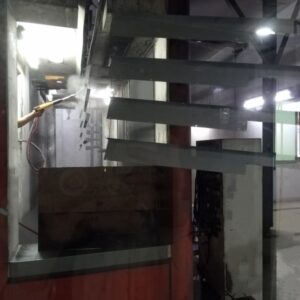 Box surface spraying can protect the quality of the box itself anti-corrosion and other issues, but also can reflect the box is not the same beautiful role, so the professional spraying process is very important, the following take you to understand the charging pile shell process:
1, first of all, the sheet metal technicians will box surface polishing and leveling well
2, water washing, phosphate pickling, after washing the box drying, drying looks very clean will have a layer of protective film.
3,In the assembly line with tools such as gas pipe to do the final surface impurities cleaning.
4, and then the charging pile shell into the spray paint room first spray a layer of primer, over the circle furnace and then spray surface coating, different powder quality adhesion is not the same, this should be selected according to demand.
Dongguan Jiatong Precision Hardware Products Co., Ltd. is a professional precision sheet metal production enterprise, which can provide customers with a full set of production solutions integrating sheet metal processing, welding, spraying, silk-screening and assembly and the latest automated sheet metal production solutions, and some of the processes have been automated production from under-shell to spraying. The main technicians have more than 5 years of working experience, so they have a great advantage in professionalism and experience. Moreover, we have our own professional spraying room, so the series of processes of adding piles and lowering shells can be completed very quickly. If you are looking for such a professional sheet metal manufacturer, it is a good decision to go for Dongguan Jiatong Precision Hardware Products Co. Welcome to consult! click to contact us.
Custom Metal Box Manufacturers | Custom Sheet Metal Enclosures | Custom Aluminum Box | Custom Sheet Metal Boxes | Custom Metal Boxes | Sheet Metal Supplier | Steel Box Manufacturers | Sheet Metal Box Manufacturers | Custom Made Metal Boxes | China Sheet Metal Manufacturer | Outdoor Vending Machine Enclosures | Industrial Machine Enclosures | Metal Enclosures for Electronics | EV Charger Outdoor Enclosure | Outdoor EV Charger Enclosure | EV Charger Enclosure | Custom Aluminium Box | Custom Steel Box | Metal Box Supplier | Metal Enclosure Manufacturer | Sheet Metal Enclosure Manufacturers | Metal Enclosure Box Manufacturer | Metal Enclosure Manufacturer | Aluminium Box Manufacturer | Outdoor Equipment Enclosures | Aluminium Box Manufacturers | Equipment Enclosures Metal | Metal Enclosure Box | Metal Enclosure | Enclosure Box Price | Sheet Metal Manufacturers | Sheet Metal Manufacturing companies | Custom Made Aluminium Boxes | Custom Made Metal Box | Aluminum Sheet Metal Fabrication | Aluminium Sheet Metal Fabrication | Auminium Tool Boxes Made to Order | Custom Metal Enclosures | Custom Stainless Steel Box | Custom Made Aluminum Boxes | Metal Box Manufacturers | Custom Steel Enclosures | Custom Stainless Steel Enclosures | Custom Metal Box | Custom Aluminium Box | Sheet Metal Fabrication Supplier | China Sheet Metal Fabrication | Custom Sheet Metal Fabrication | Sheet Metal Fabrication Services | Metal Manufacturing in China | Aluminum Box Fabrication | Sheet Metal Box Fabrication | Sheet Metal China | Precision Sheet Metal Fabrication | Custom Aluminum Box Fabrication | Custom Metal Box Fabrication