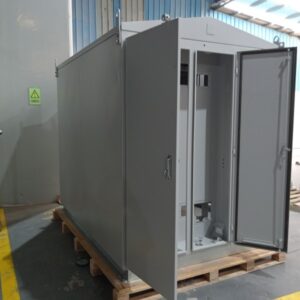 Large chassis welding will encounter the following problems: poor weld quality, defects, porosity, cracks and other problems may appear; material deformation by high temperature; material discoloration by high temperature, affecting the aesthetics; welding may produce welding slag or spatter, affecting the quality of welding.
Dongguan Jiatong Precision Hardware Products Co., Ltd. has professional solutions to these problems: Jiatong will choose the appropriate welding process and welding materials according to the customer's products to reduce the problem of material deformation during the welding process and ensure the welding quality. Whether it is arc welding or spot welding, Jiatong has professional and experienced sheet metal workers to operate, which can reduce the error in the welding process. Jiatong sheet metal workers will choose to use suitable welding brackets, jigs and other auxiliary tools according to customers' products to control welding deformation. At the same time, measures such as gas protection are used to reduce oxygen contact and prevent welding discoloration. Jiatong sheet metal workers will control welding parameters such as current, voltage and welding speed during the welding process, and clean the welding area in time to keep the welding area as clean as possible and reduce the generation of welding slag and spatter. Finally, Jiatong sheet metal workers will carry out post-welding heat treatment to eliminate residual stress and improve welding quality.
If you are worrying about these problems, you may consider Dongguan Jiatong Precision Hardware Products Co. With 12 years of sheet metal experience, Jiatong can well solve the problems you encounter in the sheet metal production process, welcome to click the link below to consult.
Custom Metal Box Manufacturers | Custom Sheet Metal Enclosures | Custom Aluminum Box | Custom Sheet Metal Boxes | Custom Metal Boxes | Sheet Metal Supplier | Steel Box Manufacturers | Sheet Metal Box Manufacturers | Custom Made Metal Boxes | China Sheet Metal Manufacturer | Outdoor Vending Machine Enclosures | Industrial Machine Enclosures | Metal Enclosures for Electronics | EV Charger Outdoor Enclosure | Outdoor EV Charger Enclosure | EV Charger Enclosure | Custom Aluminium Box | Custom Steel Box | Metal Box Supplier | Metal Enclosure Manufacturer | Sheet Metal Enclosure Manufacturers | Metal Enclosure Box Manufacturer | Metal Enclosure Manufacturer | Aluminium Box Manufacturer | Outdoor Equipment Enclosures | Aluminium Box Manufacturers | Equipment Enclosures Metal | Metal Enclosure Box | Metal Enclosure | Enclosure Box Price | Sheet Metal Manufacturers | Sheet Metal Manufacturing companies | Custom Made Aluminium Boxes | Custom Made Metal Box | Aluminum Sheet Metal Fabrication | Aluminium Sheet Metal Fabrication | Auminium Tool Boxes Made to Order | Custom Metal Enclosures | Custom Stainless Steel Box | Custom Made Aluminum Boxes | Metal Box Manufacturers | Custom Steel Enclosures | Custom Stainless Steel Enclosures | Custom Metal Box | Custom Aluminium Box | Sheet Metal Fabrication Supplier | China Sheet Metal Fabrication | Custom Sheet Metal Fabrication | Sheet Metal Fabrication Services | Metal Manufacturing in China | Aluminum Box Fabrication | Sheet Metal Box Fabrication | Sheet Metal China | Precision Sheet Metal Fabrication | Custom Aluminum Box Fabrication | Custom Metal Box Fabrication | Sheet Metal Manufacturing | Metal Manufacturing Company | Metal Bending Services