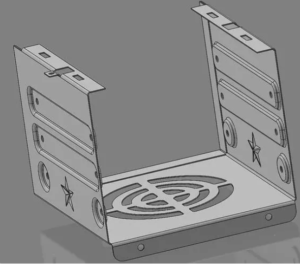 Designing a custom sheet metal cabinet involves several steps. Below are the general requirements for the design process.
Determine the purpose of the cabinet, including the type of items that will be stored in it, the environment it will be used in, and any special features or requirements.Determine the dimensions: Determine the overall size of the cabinet, as well as the size and number of internal compartments or shelves.
Create a detailed sketch, consult with a metal fabrication company that has experience in custom sheet metal cabinets. The fabrication company can provide guidance on material selection, design modifications, and manufacturing techniques.Once the design is approved, the metal fabrication company will begin the fabrication process.
Collaboration with a reputable sheet metal supplier. By following these steps, you can create a custom sheet metal cabinet that meets your specific needs and requirements.
Custom Metal Box Manufacturers | Custom Sheet Metal Enclosures | Custom Aluminum Box | Custom Sheet Metal Boxes | Custom Metal Boxes | Sheet Metal Supplier | Steel Box Manufacturers | Sheet Metal Box Manufacturers | Custom Made Metal Boxes | China Sheet Metal Manufacturer | Outdoor Vending Machine Enclosures | Equipment Enclosures | Machinery Enclosures | Machine Enclosure | Machine Enclosures | Industrial Machine Enclosures | Metal Enclosures for Electronics | EV Charger Outdoor Enclosure | Outdoor EV Charger Enclosure | EV Charger Enclosure