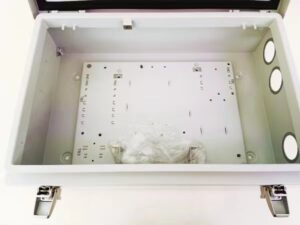 1、Whether the rigidity of the material is sufficient
Rigidity is the primary consideration when choosing materials, because the product needs a certain stability and wear resistance in the actual work, the rigidity of the material determines the feasibility of product design. According to the characteristics of the industry, non-standard tooling design, usually choose 45 steel and aluminum alloy; machining tooling design, 45 steel and alloy steel will be used more; automation industry tooling design, most will choose aluminum alloy.
2、How about material stability
For a high-precision requirements of the product, if not stable enough, after assembly will be a variety of deformation, or again during the use of deformation, in short, with the temperature, humidity and vibration and other environmental changes in the continuous deformation, which is very will not affect.
3, how the material processing performance
The processing performance of the material means that the parts are not good processing. Although stainless steel is rust-proof, stainless steel is not good for processing, it is hard and easy to wear the tool during processing. Processing small holes in stainless steel, especially threaded holes, easy to break the drill bit, but also easy to break the tap, which will lead to very high processing costs.
4, the material anti-rust treatment
Anti-rust treatment is related to the stability of the use of products and appearance quality. Such as 45 steel usually choose "blackening" treatment to prevent rust, or the parts will be painted and sprayed plastic treatment, but also according to the requirements of the use of the environment, the use of sealing oil or rust-proof liquid to protect the process, anti-rust treatment process has a lot, but if the above ways are not very suitable, then you must replace the material, such as the use of stainless steel. In any case, the rust prevention problem of the product cannot be ignored.
5、How about the cost of materials
Cost is an important consideration in choosing materials. Titanium alloy is light, high specific strength, good corrosion resistance, widely used in automotive engine systems, and plays an immeasurable role in energy saving and consumption reduction.
Custom Metal Box Manufacturers | Custom Sheet Metal Enclosures | Custom Aluminum Box | Custom Sheet Metal Boxes | Custom Metal Boxes | Sheet Metal Supplier | Steel Box Manufacturers | Sheet Metal Box Manufacturers | Custom Made Metal Boxes | China Sheet Metal Manufacturer | Outdoor Vending Machine Enclosures | Equipment Enclosures | Machinery Enclosures | Machine Enclosure | Machine Enclosures | Industrial Machine Enclosures | Metal Enclosures for Electronics | EV Charger Outdoor Enclosure | Outdoor EV Charger Enclosure | EV Charger Enclosure | Custom Aluminium Box | Custom Steel Box | Metal Box Supplier | Metal Enclosure Manufacturer | Sheet Metal Enclosure Manufacturers | Metal Enclosure Box Manufacturer | Metal Enclosure Manufacturer | Aluminium Box Manufacturer | Outdoor Equipment Enclosures | Enclosure for EV Charger | EV Charging Enclosure | EV Charger Enclosure | Aluminium Box Manufacturers | Equipment Enclosures Metal | Sheet Metal Enclosure | Metal Enclosure Box | Metal Enclosure | Enclosure Box Price | Sheet Metal Manufacturers | Sheet Metal Manufacturing companies | Custom Made Aluminium Boxes | Custom Made Metal Box | Aluminum Sheet Metal Fabrication | Aluminium Sheet Metal Fabrication | Auminium Tool Boxes Made to Order | Custom Metal Enclosures | Custom Stainless Steel Box | Custom Made Aluminum Boxes | Metal Box Manufacturers | Custom Steel Enclosures | Custom Stainless Steel Enclosures | Custom Metal Box | Custom Aluminium Box