A good sheet metal manufacturer can be examined from many aspects, near if you can visit the field, far if you can judge from the Internet, his customer reviews, scale, years of experience, made in kind, the manufacturers he has worked with and so on.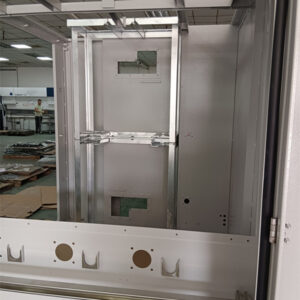 If you want to find such a custom aluminum box manufacturer, you can consider the following factors. First, this factory has the ability to open its own mold, because the mold is the key to custom aluminum boxes, a good mold to make a good aluminum box; second, to see if this manufacturer has a certain production capacity, if the capacity is not enough, this is difficult to complete the task within the specified time; third, to see if this company has the quality process of testing, which is also quite important.
A whole aluminum box is to go through four steps to complete, respectively, design, selection, processing and assembly, the general large manufacturers will have inventory, if the customer's needs happen to have, direct cutting and assembly on the line, no then we have to do it now, through the four steps of casting, extrusion, cutting, surface treatment to complete the profile casting. If you need to customize the aluminum box, the customer can give the drawings to the manufacturer for proofing, and then place the order after the proofing is satisfied.
Custom Metal Box Manufacturers | Custom Sheet Metal Enclosures | Custom Aluminum Box | Custom Sheet Metal Boxes | Custom Metal Boxes | Sheet Metal Supplier | Steel Box Manufacturers | Sheet Metal Box Manufacturers | Custom Made Metal Boxes | China Sheet Metal Manufacturer | Outdoor Vending Machine Enclosures | Equipment Enclosures | Machinery Enclosures | Machine Enclosure | Machine Enclosures | Industrial Machine Enclosures | Metal Enclosures for Electronics | EV Charger Outdoor Enclosure | Outdoor EV Charger Enclosure | EV Charger Enclosure | Custom Aluminium Box | Custom Steel Box | Metal Box Supplier | Metal Enclosure Manufacturer | Sheet Metal Enclosure Manufacturers | Metal Enclosure Box Manufacturer | Metal Enclosure Manufacturer | Aluminium Box Manufacturer | Outdoor Equipment Enclosures | Enclosure for EV Charger | EV Charging Enclosure | EV Charger Enclosure | Aluminium Box Manufacturers | Equipment Enclosures Metal | Sheet Metal Enclosure | Metal Enclosure Box | Metal Enclosure | Enclosure Box Price | Sheet Metal Manufacturers | Sheet Metal Manufacturing companies