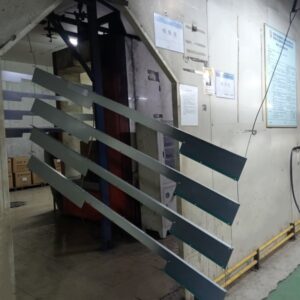 The process of painting the housing of a banknote storage machine usually consists of the following steps:
The enclosure is first cleaned and prepared for painting. Any dirt, grease, or other contaminants y be removed to ensure a clean surface for the paint to adhere to. Any defects or rough spots on the housing are sanded down and filled with body filler to create a smooth surface. A primer is applied to the shell to provide a base for the paint to adhere to, which also helps prevent corrosion and rusting. The primer is applied to the shell in a controlled environment, such as a paint booth, and this can be done with a spray gun or automated system. Once the primer has dried, a clear coat is applied to provide additional protection and gloss. The enclosure is then allowed to cure, which usually involves heating the painted surface to a specific temperature for a certain amount of time. Once the paint is fully cured, the enclosure is inspected for any defects or areas that need to be repaired.
The painting process for bank storage machine enclosures requires precision and attention to detail to ensure a high quality and durable surface that will stand up to daily use. Proper surface preparation, priming and curing are essential to ensure proper paint adhesion and provide maximum protection against corrosion and wear.
Dongguan Jiatong Precision Hardware Products Co., Ltd. has its own professional spraying room with perfect equipment and professional and experienced sheet metal spraying workers, which can guarantee the quality of sheet metal product spraying. The company can customize various sheet metal products, such as sheet metal cabinets, sheet metal chassis, sheet metal workpieces, charging pile shells, bank storage machine shells, etc., providing one-stop service. If you are looking for such a sheet metal manufacturer, Jiatong is a good choice, welcome to inquire.
Custom Metal Box Manufacturers |  | Custom Aluminum Box | Custom Sheet Metal Boxes | Custom Metal Boxes | Sheet Metal Supplier | Steel Box Manufacturers | Sheet Metal Box Manufacturers | Custom Made Metal Boxes | China Sheet Metal Manufacturer | Outdoor Vending Machine Enclosures | Industrial Machine Enclosures | Metal Enclosures for Electronics | EV Charger Outdoor Enclosure | Outdoor EV Charger Enclosure | EV Charger Enclosure | Custom Aluminium Box | Custom Steel Box | Metal Box Supplier | Metal Enclosure Manufacturer | Sheet Metal Enclosure Manufacturers | Metal Enclosure Box Manufacturer | Metal Enclosure Manufacturer | Aluminium Box Manufacturer | Outdoor Equipment Enclosures | Aluminium Box Manufacturers | Equipment Enclosures Metal | Metal Enclosure Box | Metal Enclosure | Enclosure Box Price | Sheet Metal Manufacturers | Sheet Metal Manufacturing companies | Custom Made Aluminium Boxes | Custom Made Metal Box | Aluminum Sheet Metal Fabrication | Aluminium Sheet Metal Fabrication | Auminium Tool Boxes Made to Order | Custom Metal Enclosures | Custom Stainless Steel Box | Custom Made Aluminum Boxes | Metal Box Manufacturers | Custom Steel Enclosures | Custom Stainless Steel Enclosures | Custom Metal Box | Custom Aluminium Box | Sheet Metal Fabrication Supplier | China Sheet Metal Fabrication | Custom Sheet Metal Fabrication | Sheet Metal Fabrication Services | Metal Manufacturing in China | Aluminum Box Fabrication | Sheet Metal Box Fabrication | Sheet Metal China | Precision Sheet Metal Fabrication | Custom Aluminum Box Fabrication | Custom Metal Box Fabrication