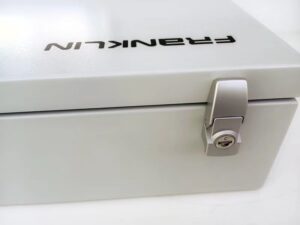 The process of making a sheet metal box typically involves several steps, including cutting, bending, forming, and welding. Here is a general overview of the process: The box is first designed using computer-aided design (CAD) software, taking into account the required dimensions and specifications. The appropriate sheet metal material is chosen based on the intended use and required strength of the box. The sheet metal is cut into the required size and shape using a variety of cutting tools, such as shears, lasers, or plasma cutters. The sheet metal is then bent into the desired shape using a press brake or rolling machine. This involves clamping the metal sheet between two dies and applying pressure to create the desired bend angle. Additional forming may be required to create features such as flanges or tabs. This is typically done using specialized tools such as punches and dies. The various pieces of the box are welded together using techniques such as TIG welding or MIG welding. This creates a strong and durable bond between the metal pieces. The box may undergo additional finishing steps such as sanding or painting to ensure a smooth surface and protect against corrosion.
Overall, the process of making a sheet metal box requires precision, attention to detail, and specialized tools and equipment to create a high-quality and functional product. That's why it's important to find a professional and reputable sheet metal manufacturer.
Dongguan Jiatong Precision Hardware Products Co., Ltd Was Established in March 2011 and located in Humen Town, Guangdong Province. The factory has an area of about 8,200 square meters and is a professional precision sheet metal origin manufacturer, providing customers with a full set of latest automated sheet metal production solutions that integrate Precision Laser Cutting, Fiber Cutting, CNC Robot Bending, Riveting, Welding, Broaching, Drilling, Tapping, Riveting, Shearing, Deep Drawing, CNC Machining, Metal Finishing, Assembling Etc. If you need custom sheet metal boxes, sheet metal enclosures, etc., feel free to contact us!
Custom Metal Box Manufacturers | Custom Sheet Metal Enclosures | Custom Aluminum Box | Custom Sheet Metal Boxes | Custom Metal Boxes | Sheet Metal Supplier | Steel Box Manufacturers | Sheet Metal Box Manufacturers | Custom Made Metal Boxes | China Sheet Metal Manufacturer | Outdoor Vending Machine Enclosures | Industrial Machine Enclosures | Metal Enclosures for Electronics | EV Charger Outdoor Enclosure | Outdoor EV Charger Enclosure | EV Charger Enclosure | Custom Aluminium Box | Custom Steel Box | Metal Box Supplier | Metal Enclosure Manufacturer | Sheet Metal Enclosure Manufacturers | Metal Enclosure Box Manufacturer | Metal Enclosure Manufacturer | Aluminium Box Manufacturer | Outdoor Equipment Enclosures | Aluminium Box Manufacturers | Equipment Enclosures Metal | Metal Enclosure Box | Metal Enclosure | Enclosure Box Price | Sheet Metal Manufacturers | Sheet Metal Manufacturing companies | Custom Made Aluminium Boxes | Custom Made Metal Box | Aluminum Sheet Metal Fabrication | Aluminium Sheet Metal Fabrication | Auminium Tool Boxes Made to Order | Custom Metal Enclosures | Custom Stainless Steel Box | Custom Made Aluminum Boxes | Metal Box Manufacturers | Custom Steel Enclosures | Custom Stainless Steel Enclosures | Custom Metal Box | Custom Aluminium Box | Sheet Metal Fabrication Supplier | China Sheet Metal Fabrication | Custom Sheet Metal Fabrication | Sheet Metal Fabrication Services | Metal Manufacturing in China | Aluminum Box Fabrication | Sheet Metal Box Fabrication | Sheet Metal China | Precision Sheet Metal Fabrication | Custom Aluminum Box Fabrication | Custom Metal Box Fabrication