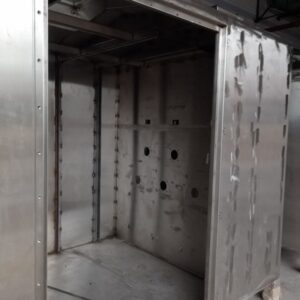 The process of polishing the undercarriage usually involves the following steps:
Preparation: First the chassis is put through a thorough cleaning to remove any loose debris, dirt or grease, ensuring that the surface is clean and free of any contaminants that could interfere with the polishing process.
Sanding: Depending on the condition of the chassis, sandpaper or other abrasive material is used to remove any rust, scratches or other defects, starting with a coarse grit and working up to a fine grit until a smooth surface is achieved.
Polishing compound: Once the surface has been sanded to the desired smoothness, a polishing compound is applied to the surface. This compound, usually a mixture of abrasive particles suspended in a liquid, is used to remove any remaining scratches and to give the metal a glossy finish.
Polishing: The chassis is then polished with a rotating polishing wheel or a hand-held buffer. The buffer applies pressure to the surface and rotates at high speed, which helps to distribute the polish evenly and bring out a high gloss.
Finishing: After the chassis has been polished to the desired level, a finishing agent can be applied to protect the surface and enhance the shine. This may involve the use of a wax or sealer that is applied to the surface and then polished to a smooth finish.
Polishing a sump requires skill and attention to detail, as any errors or inconsistencies in the process will show up in the final product. The use of high quality polishes, buffers and finishing products is essential to achieve a smooth and shiny surface that is resistant to wear and corrosion. If high quality and aesthetics of products are sought, this requires finding a professional and reputable sheet metal manufacturer. Dongguan Jiatong Precision Hardware Products Co., Ltd. has 11 years of sheet metal experience, professional and advanced sheet metal tools, and is able to select different sheet metal tools according to the customer's needs. Most of the company's sheet metal workers have more than five years of experience and are able to provide professional sheet metal production techniques that If you need customized sheet metal products, please click the link below to inquire.
Custom Metal Box Manufacturers | Custom Sheet Metal Enclosures | Custom Aluminum Box | Custom Sheet Metal Boxes | Custom Metal Boxes | Sheet Metal Supplier | Steel Box Manufacturers | Sheet Metal Box Manufacturers | Custom Made Metal Boxes | China Sheet Metal Manufacturer | Outdoor Vending Machine Enclosures | Industrial Machine Enclosures | Metal Enclosures for Electronics | EV Charger Outdoor Enclosure | Outdoor EV Charger Enclosure | EV Charger Enclosure | Custom Aluminium Box | Custom Steel Box | Metal Box Supplier | Metal Enclosure Manufacturer | Sheet Metal Enclosure Manufacturers | Metal Enclosure Box Manufacturer | Metal Enclosure Manufacturer | Aluminium Box Manufacturer | Outdoor Equipment Enclosures | Aluminium Box Manufacturers | Equipment Enclosures Metal | Metal Enclosure Box | Metal Enclosure | Enclosure Box Price | Sheet Metal Manufacturers | Sheet Metal Manufacturing companies | Custom Made Aluminium Boxes | Custom Made Metal Box | Aluminum Sheet Metal Fabrication | Aluminium Sheet Metal Fabrication | Auminium Tool Boxes Made to Order | Custom Metal Enclosures | Custom Stainless Steel Box | Custom Made Aluminum Boxes | Metal Box Manufacturers | Custom Steel Enclosures | Custom Stainless Steel Enclosures | Custom Metal Box | Custom Aluminium Box | Sheet Metal Fabrication Supplier | China Sheet Metal Fabrication | Custom Sheet Metal Fabrication | Sheet Metal Fabrication Services | Metal Manufacturing in China | Aluminum Box Fabrication | Sheet Metal Box Fabrication | Sheet Metal China | Precision Sheet Metal Fabrication | Custom Aluminum Box Fabrication | Custom Metal Box Fabrication | Sheet Metal Manufacturing | Metal Manufacturing Company