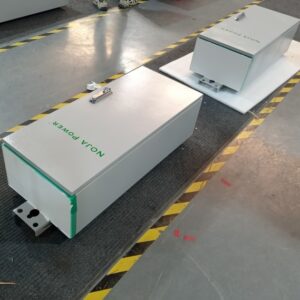 Compared with the traditional distribution box, the customized distribution box has greater flexibility in many aspects such as appearance, size and electrical interior, and can be designed and produced according to the needs of different customers. Common features include:
1. Appearance size: Customized distribution boxes can be designed in any size according to different occasions, thus meeting the needs of different occasions, such as industrial, civil, medical and other occasions;
2. Internal layout: Customers can choose the electrical equipment they need and have it precisely positioned and fixed by the manufacturer to ensure efficient power supply;
3. Multi-functional design: Customized distribution box can be designed with various functions according to the actual needs of customers, such as power switch, electrical protection, power measurement and other functions.
Customized distribution boxes are widely used in many fields such as industry, civil, medical and transportation. According to different applications, the shape, power and function of custom distribution box are different. In the industrial field, custom distribution boxes can be used for power distribution and power control in machinery, chemical industry, light industry and many other fields. In the construction field, custom distribution boxes can help to realize the functions of power control for different building levels, campus power supply, and public facility power control. In the medical field, custom distribution boxes can help realize the power needs of different departments in the hospital.
Choosing the right manufacturer can help customers achieve satisfactory power distribution and power control. Dongguan Jiatong Precision Hardware Products Co., Ltd. is a manufacturer with 12 years of sheet metal experience, professional and experienced sheet metal workers, and constantly introduces advanced sheet metal equipment, which can ensure the quality of sheet metal products, improve production efficiency and reduce costs. If you are looking for such a sheet metal manufacturer, Jiatong is a good choice, welcome to click the link below to inquire!
Custom Metal Box Manufacturers | Custom Sheet Metal Enclosures | Custom Aluminum Box | Custom Sheet Metal Boxes | Custom Metal Boxes | Sheet Metal Supplier | Steel Box Manufacturers | Sheet Metal Box Manufacturers | Custom Made Metal Boxes | China Sheet Metal Manufacturer | Outdoor Vending Machine Enclosures | Industrial Machine Enclosures | Metal Enclosures for Electronics | EV Charger Outdoor Enclosure | Outdoor EV Charger Enclosure | EV Charger Enclosure | Custom Aluminium Box | Custom Steel Box | Metal Box Supplier | Metal Enclosure Manufacturer | Sheet Metal Enclosure Manufacturers | Metal Enclosure Box Manufacturer | Metal Enclosure Manufacturer | Aluminium Box Manufacturer | Outdoor Equipment Enclosures | Aluminium Box Manufacturers | Equipment Enclosures Metal | Metal Enclosure Box | Metal Enclosure | Enclosure Box Price | Sheet Metal Manufacturers | Sheet Metal Manufacturing companies | Custom Made Aluminium Boxes | Custom Made Metal Box | Aluminum Sheet Metal Fabrication | Aluminium Sheet Metal Fabrication | Auminium Tool Boxes Made to Order | Custom Metal Enclosures | Custom Stainless Steel Box | Custom Made Aluminum Boxes | Metal Box Manufacturers | Custom Steel Enclosures | Custom Stainless Steel Enclosures | Custom Metal Box | Custom Aluminium Box | Sheet Metal Fabrication Supplier | China Sheet Metal Fabrication | Custom Sheet Metal Fabrication | Sheet Metal Fabrication Services | Metal Manufacturing in China | Aluminum Box Fabrication | Sheet Metal Box Fabrication | Sheet Metal China | Precision Sheet Metal Fabrication | Custom Aluminum Box Fabrication | Custom Metal Box Fabrication | Sheet Metal Manufacturing | Metal Manufacturing Company | Metal Bending Services