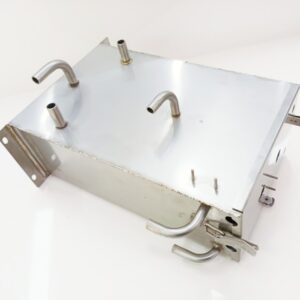 Aluminum sheets are rectangular sheets made from rolled aluminum ingots and are classified as pure aluminum sheets, alloy aluminum sheets, thin aluminum sheets, medium-thick aluminum sheets and patterned aluminum sheets. Aluminum consumption through the gradual promotion of changes, technology maturity, policy guidance and support, the current expansion of applications include: transportation, building construction, power sector. It also includes products and areas such as aluminum pallets, aluminum flood protection facilities, aluminum alloy bridges, and aluminum foil packaging.
Transportation field: Aluminum profiles used in the transportation field can effectively reduce self-weight, increase payload and extend service life, which is of great significance to energy saving and emission reduction, and improve economic benefits of transportation industry and road transportation efficiency.
Building structure field: The standardization and industrialization of the construction of large construction companies, the rising demand for factories, and the requirements of the general public to improve the quality of housing, the application of aluminum alloy formwork has produced a huge promotion. With the growth of market demand for construction projects in the global, strategic and public welfare fields such as agricultural development infrastructure education facilities for construction, security housing projects, rural dilapidated housing renovation, the demand for aluminum alloy enclosure panels will be obviously can be enhanced.
Electricity field: It can reduce the dependence on copper resources to a certain extent and enhance the resource support ability.
Custom Metal Box Manufacturers | Custom Sheet Metal Enclosures | Custom Aluminum Box | Custom Sheet Metal Boxes | Custom Metal Boxes | Sheet Metal Supplier | Steel Box Manufacturers | Sheet Metal Box Manufacturers | Custom Made Metal Boxes | China Sheet Metal Manufacturer | Outdoor Vending Machine Enclosures | Equipment Enclosures | Machinery Enclosures | Machine Enclosure | Machine Enclosures | Industrial Machine Enclosures | Metal Enclosures for Electronics | EV Charger Outdoor Enclosure | Outdoor EV Charger Enclosure | EV Charger Enclosure | Custom Aluminium Box | Custom Steel Box | Metal Box Supplier | Metal Enclosure Manufacturer | Sheet Metal Enclosure Manufacturers | Metal Enclosure Box Manufacturer | Metal Enclosure Manufacturer | Aluminium Box Manufacturer | Outdoor Equipment Enclosures | Enclosure for EV Charger | EV Charging Enclosure | EV Charger Enclosure | Aluminium Box Manufacturers | Equipment Enclosures Metal | Sheet Metal Enclosure | Metal Enclosure Box | Metal Enclosure | Enclosure Box Price | Sheet Metal Manufacturers | Sheet Metal Manufacturing companies | Custom Made Aluminium Boxes | Custom Made Metal Box | Aluminum Sheet Metal Fabrication | Aluminium Sheet Metal Fabrication | Auminium Tool Boxes Made to Order | Custom Metal Enclosures | Custom Stainless Steel Box | Custom Made Aluminum Boxes | Metal Box Manufacturers | Custom Steel Enclosures | Custom Stainless Steel Enclosures | Custom Metal Box | Custom Aluminium Box